FANCY FEAST Wet Cat Food
FANCY FEAST Adult Petite Cuisine Turkey and Liver Grilled Chicken Wet Cat Food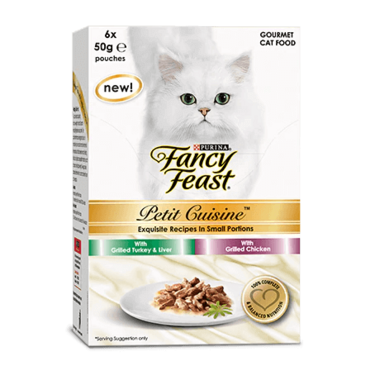 Multipack includes: FANCY FEAST Petit Cuisine™ with Grilled Turkey and Liver; FANCY FEAST Petit Cuisine™ with Grilled Chicken.
Fine cuts with grilled turkey, chicken and tuna, served in a delicious sauce for the ultimate culinary experience.
Indulgent taste with complete nutrition. FANCY FEAST Petit Cuisine™, a range of exquisite recipes created in small portions, for your cat to enjoy all at once, any time of the day. FANCY FEAST Petit Cuisine™ provides complete and balanced nutrition for adult maintenance as established by the Association of American Feed Control Officials nutrient profiles.
Includes:
3 x FANCY FEAST Petit Cuisine™ with Turkey & Liver
3 x FANCY FEAST Petit Cuisine™ with Grilled Chicken
with Grilled Turkey & Liver
Meat and animal derivatives (of which turkey 4%, liver 4%), vegetable protein extracts, fish and fish derivatives, minerals, various sugars, yeasts.
with Grilled Chicken
Meat (Chicken, Pork, Poultry, Poultry meal), Wheat gluten, Salmon, Minerals (Ca, P, K, Na, Cl, Mg, Fe, Cu, Mn, Zn, I), Thickener, Yeast, Vitamins (A, D, E, K, B1, B2, Pantotheric acid, Niacin, B6, Folic acid, Biotin, B12, Choline), Amino acid (Taurine)."
Guaranteed Analysis
Moisture :  81.5%
Protein:   12.0%
Fat content:   3.0%
Crude Fibre:  0.05%
Ash:           1.4%
Suggested Daily Feeding
For an average adult cat (4kg), serve 6 to 7 pouches throughout the day in at least 2 separate meals. The adult maintenance averages are based on moderately active cats at normal environmental temperatures. Individual needs vary and feeding should be adjusted as required to maintain your cat at a lean, healthy body weight. Fresh, clean drinking water should always be available.
Good To Know
Adjust feeding as appropriate to keep a healthy body condition. For cats who are fed both wet and dry food, adjust your feeding routine to maintain a healthy body condition as instructed by your veterinarian.  Refrigerate unused portion.
Way to Plate
Looking to give your cat a 5-star experience? Garnish her plate with a blade or two of cat grass for exceptionally chic mealtime plating.
Wet Food
You may also like...