OSCAR Wet Cat Food
OSCAR As Good as it Looks ADULT Beef Pouch Wet Cat Food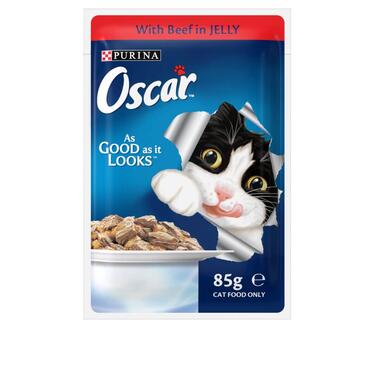 Irresistible meaty pieces in succulent jelly
Full of healthy goodness such as Vitamin D&E, Balanced Minerals and Omega 6 Fatty Acids to satisfy 100% of your cat's daily needs
100% Complete and Balanced
Features & Details
OSCAR Adult As Good As It Looks™ with Beef in Jelly (wet cat food) is a delicious meal specially prepared with tender meaty pieces in a succulent jelly which look and smell so meaty, it looks like food you might have cooked yourself.
That's not all! These delicious meals are a source of essential Omega 6 fatty acid and contain the right combination of balanced minerals and vitamins D & E.
It's full of healthy goodness to satisfy 100% of your cat's daily needs when fed according to the feeding guidelines on pack. Your little rascal will find OSCAR irresistible every mealtime!
Ingredients
Meat & Meat Derivatives (Poultry and/or Lamb) and/or Fish, Beef; Cereal Protein; Amino Acids, Minerals, Vitamins and Flavours; Thickeners; Colours. 
 
Guaranteed Analysis
Crude Protein: 12%
Crude Fat 2.8%
Metabolizable Energy (ME): 70 kcal/100g. 
Recommended daily amount 
Adult cat (4kg)=4 x 85 g
Feed 1 pouch per day per kg of body weight
Serve at room temperature 
Clean, fresh drinking water should always be available 
Energy requirements of individual cats vary and feeding should be adjusted as required to maintain healthy body weight.
Jelly
You may also like...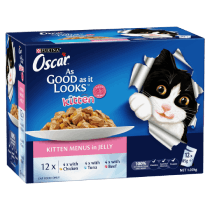 OSCAR As Good as it Looks KITTEN Menu Wet Cat Food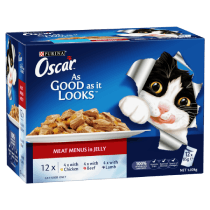 OSCAR As Good as it Looks ADULT Meat Menu Wet Cat Food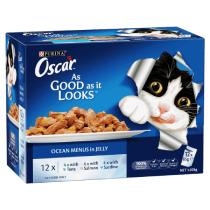 OSCAR As Good as it Looks ADULT Ocean Menu Wet Cat Food