PURINA ONE® Small Dog Active with Beef, Potatoes and Carrots in gravy
PURINA ONE Small Dog Active Wet Dog Food Multipack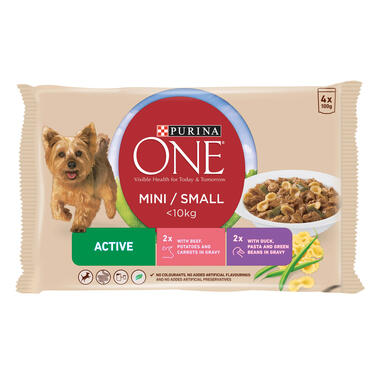 PURINA ONE® Small Dog Active with Beef, Potatoes and Carrots in gravy
PURINA ONE developed a range of Dog wet food specifically for Small Dogs
High quality advanced nutrition in tasty meals in gravy
Small tender chunks adapted to your dog's smaller mouth
With a variety of tastes and textures, you please him at each mealtime with recipes specifically formulated to suit his nutritional needs and for a strong immune system
PURINA ONE® Small Dog Active complete wet pet food for small adult dogs, with Beef, Potatoes and Carrots in gravy.
Your small dog has specific nutritional needs. The expert dog nutritionists at Purina ONE developed a range of Dog wet food specifically for Small Dogs which is providing high quality advanced nutrition in tasty meals in gravy. Small tender chunks adapted to your dog's smaller mouth. With a variety of tastes and textures, you please him at each mealtime with recipes specifically formulated to suit his nutritional needs and for a strong immune system.
Ingredients
Meat and animal derivatives (of which beef 4%), vegetable protein extracts, fish and fish derivatives, derivatives of vegetable origin, vegetables (0.8% dehydrated potatoes, equivalent to 7.2% potato, 0.8% dehydrated carrots, equivalent to 7.2% carrots), minerals, various sugars, oils and fats.
Guaranteed Analysis
Moisture (Max)   76.4%
Protein (Min)   12.3%
Fat (Min)   4.7%
Crude Ash (Max)   1.9%
Crude Fibres (Max)   1.3%
Feeding Guide
Fresh clean drinking water should be always available.
Feeding Guide: See table for recommended daily feeding amounts.
Divide the daily amount into two or more meals.
These amounts are guidelines only. To help keep your dog in an ideal body condition, adjust according to your dog's activity level, physical condition and individual needs. To monitor your dog's health, consult a veterinary surgeon regularly.
Recommended amount:
 
 
 
To mix PURINA ONE® Small Dog Active* dry and PURINA® ONE Small Dog Active* wet
 
Moderate
Activity
High
Activity
Moderate Activity
High Activity
Dog Weight (kg)
Wet (pouch)
Dry (g)
Wet (pouch)
Dry (g)
Wet (pouch)
1 – 5 kg
1 2/3 – 5
2 – 5 1/2
25 – 85
1/2 – 1
30 – 100
1/2 – 1
5 – 10 kg
5 – 7 3/4
5 1/2 – 9
85 – 125
1 – 2
100 – 150
1 – 2
*Only the same dry and wet variant of PURINA ONE® Small Dog should be mixed together for your small dog to get the benefits of it
It's Not For All Dogs
PURINA ONE® formula is specifically formulated for adult dogs.
May Be Served Dry or Moistened
PURINA ONE® may be fed dry or mixed with water. If mixed, we suggest one part liquid to four parts PURINA ONE®.
Making the Switch to PURINA ONE®
Although you'll be anxious to see the difference PURINA ONE® can make in your dog, please allow 7–10 days to ease the
transition from his current food. Each day, simply feed a little less of the previous food and a little more PURINA ONE®
until you're feeding PURINA ONE® exclusively. This gradual transition will help avoid dietary upsets.
No Supplements Necessary
PURINA ONE® provides 100% complete and balanced nutrition. There is no need to add vitamins, minerals or other
supplements, unless specifically directed by a veterinarian.
Fresh Water, Proper Diet & Veterinary Care
Be sure to provide fresh water in a clean container for your dog daily. Proper diet, exercise and veterinary care are
the best ways to keep your dog healthy. If your dog hasn't had a check-up in the past year, please make an appointment
today.
Wet Food
You may also like...