FANCY FEAST Wet Cat Food
FANCY FEAST Adult Inspirations With Salmon Spinach Courgette and Green Beans Wet Cat Food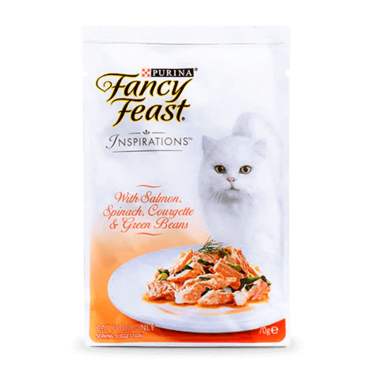 The sultry taste of salmon with the textures of spinach, courgette and green beans to heighten the culinary experience.
An irresistible culinary experience specially made to please your cat with delightful recipes everyday
Fancy Feast Inspirations with Salmon, Spinach, Courgette and Green Beans Cat Food
The sultry taste of salmon with the textures of spinach, courgette and green beans to heighten the culinary experience
Ingredients
Meat and Meat Derivatives (Poultry, Beef and/or Lamb); Cereal(s) & Vegetable(s); Fish; Vitamins & Minerals; Flavour; Thickeners; Sugars; Colour.
Guaranteed Analysis
Protein (Min)   12.0%
Fat (Min)   2.8%
Ash (Max)   0.7%
Fibre (Max)   0.7%
Suggested Daily Feeding
Feed 1.5 pouches per day per kg of body weight. Feed up to twice this amount to kittens. Pregnant or nursing cats may require 2-4 times their normal feeding. The adult maintenance averages are based on moderately active cats at normal environmental temperatures.
Good To Know
Individual needs may vary and feeding should be adjusted as required to maintain a lean healthy body weight. Always provide clean, fresh drinking water.
Way to Plate
1. Gently swirl pack to blend ingredients.
2. Tear to open.
3. Pour into bowl and serve as a complement to a balanced cat food diet.
Looking to give your cat a 5-star experience? Garnish her plate with a blade or two of cat grass for exceptionally chic mealtime plating.
Wet Food
You may also like...