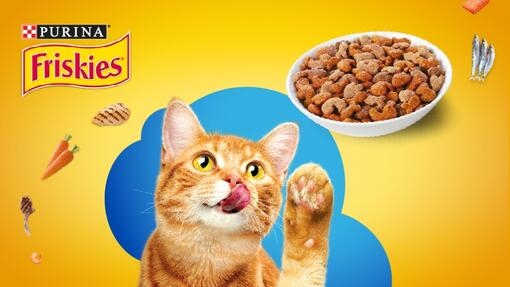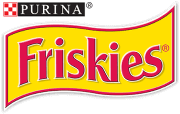 Discover the FRISKIES range
Cat owners want their pets to live life to the fullest. That's why we provide taste adventures that feed their cat's playfulness and boundless curiosity. With a wide variety of delicious wet, dry and snack foods, FRISKIES® feeds the senses.
FRISKIES HAS A NEW LOOK & RECIPE
 
Your favourite Friskies has a new look and recipe from April! 
Nestle Purina Petcare have manufacturing sites all over the world, and we are pleased to announce that now Friskies is made closer to home. The new Friskies range will have no added artificial colours, packaged in recyclable and convenient resealable bags. Rest assured this does not affect the nutritional value or quality of the product. At Nestle Purina Petcare, with every reformulation, we ensure that we deliver a variety of 100% complete and balanced foods made with high quality ingredients for your cat's needs, taste and preference.
 
However, we know some cats can be sensitive to even the smallest changes, so we recommend putting aside an extra bag of the current food you feed and gradually transition your cat. Find more info on the back of your Friskies pack or below on transitioning your cat. 
For more info about the changes happening to Friskies, visit our FAQS page or contact our Pet VIP team – contact us 
 
7 Day Transition guide 
Please allow 7-10 days to ease the transition from your cat's current food to PURINA® FRISKIES® CAT FOOD. Gradually add more PURINA® FRISKIES® CAT FOOD and less of the previous food to your cat's bowl until the changeover is complete. For your pet's health, see your veterinarian regularly. 
WHY FRISKIES
FRISKIES® products are formulated with cats in mind at every step to deliver just the right balance of tasty nutrition in cats' favourite varieties. From delicious treats to nutritious meals, every FRISKIES® product entices and excites a cat's senses.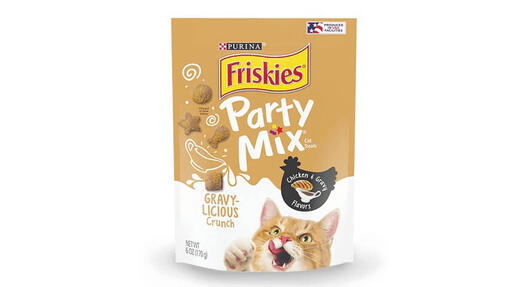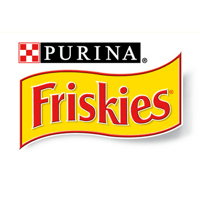 Brought to you by
Friskies
FRISKIES® Party Mix
Dive into gravy with FRISKIES® Party Mix Gravylicious Crunch Cat Treats
Indulge your cat's senses with FRISKIES dry cat food
Open a world of sensory delight by feeding FRISKIES dry cat food. Each crunchy, tasty bowlful comes alive with enticing aromas, appealing shapes and delicious flavours in every bite. Try all our nutritious varieties of dry cat food to excite and delight your cat's senses
FIND DIFFERENT WAYS TO FEED YOUR CAT'S SENSES
Satisfy your cat's craving for sensory adventure! Exciting flavours — including real poultry, beef, or seafood flavours — enticing aromas and irresistible textures to feed all your cat's senses.