FRISKIES Dry Cat Food
FRISKIES ADULT Seven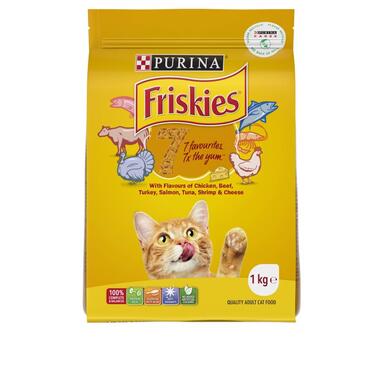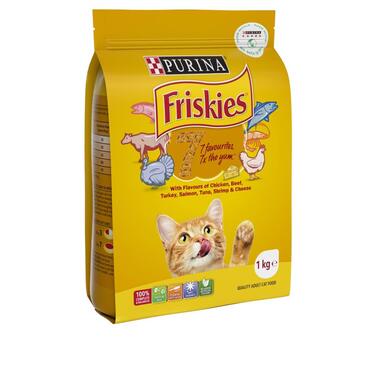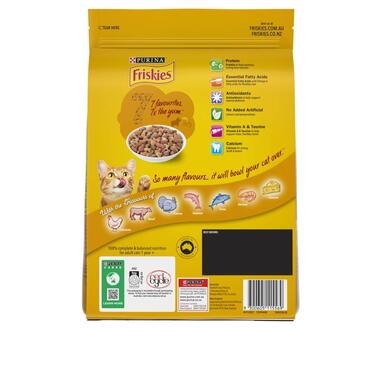 Protein Rich to help maintain strong lean muscles
Essential Fatty Acids with omega 3 & 6 for a healthy skin & coat
No Added Artificial colours & preservatives
FRISKIES ADULT Seven 1kg
FRISKIES 7® is made up of kibble biscuits in a variety of meat and seafood shapes with the flavours of chicken, beef, turkey, salmon, tuna, shrimp and cheese. 7 of your cats favourite flavours for 7 x the yum. It will bowl your cat over.   
FRISKIES Dry Cat Food is 100% Complete and Balanced providing all the nutritional goodness your cat needs to live life to the fullest.
 
Ingredients
Wholegrain cereals and/or cereal by-products and/or vegetable by-products; Meat and meat by-products (poultry and/or beef and/or lamb and/or pork) and/or poultry by-products; Vitamins, Minerals and Amino acids; Food colours; Natural Flavours.
Guaranteed analysis: 
Crude Protein 30%
Crude Fat 10%
Crude Fibre (Max) 4.5%
Omega 6 Fatty Acids (Min) 1%
Metabolizable Energy (ME) 3500kcal/kg (typical)
 
Feeding Guideline
The quantity below represents the amount to feed a cat daily. The quantity may vary based on size, age, breed and activity level.
Weight of Cat (kg)              Amount to Feed (grams/day)
2                                          30
3                                          50
4                                          65
5                                          80
6                                          95
1 cup (250ml) is approximately 110g.
AFTER EXPLORING AND PLAYING IT IS TIME TO REFUEL
Feeding guidelines are averages and your cat's needs may differ. Feeding should be adjusted as necessary to maintain an ideal body condition. Remember, cats are nibblers who enjoy eating small meals throughout the day, so your cat would appreciate it if you kept a bowl of PURINA FRISKIES dry food available at all times. Keep in mind, pregnant and nursing cats may require 2-4 times their normal daily feeding amount.
Making the switch
Please allow 7-10 days to ease the transition from your cat's current food to PURINA® FRISKIES® CAT FOOD. Gradually add more PURINA® FRISKIES® CAT FOOD and less of the previous food to your cat's bowl until the changeover is complete. For your pet's health, see your veterinarian regularly.
Click here to learn more about the 7 day transition guide
Dry Food
You may also like...