PURINA ONE Wet Pouch for Cats
PURINA ONE Adult Urinary Care With Succulent Chicken in Gravy Wet Cat Food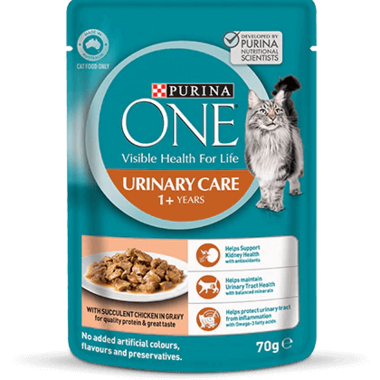 PURINA ONE Wet Pouch for Cats
Adult urinary care with succulent chicken in gravy for quality protein and great taste.
Helps support kidney health with antioxidants
Helps maintain urinary tract health with balanced minerals
Helps support healthy urinary system, high moisture levels and hydration
PURINA ONE® Adult Urinary Care with Succulent Chicken in Gravy Wet Pouch Cat Food
A complete nutrition and taste duo. Created by experts, PURINA ONE® Dry & Wet provide all the essential nutrition for your cat while delivering a variety of taste and textures she will love.
PURINA ONE® Urinary Care delivers complete and balanced nutrition and is formulated to meet the nutritional levels established by AAFCO (Association of American Feed Control Officials) for adult maintenance.
Helps support kidney health with antioxidants
Helps maintain urinary tract health with balanced minerals
Helps support healthy urinary system, high moisture levels and hydration
No artificial colours, flavours and preservatives
Ingredients
Chicken, lamb, beef and fish products; cereal protein; minerals, vitamins, amino acids, various sugars and antioxidants; plant fibre and natural plant derivatives.
Nutritional Composition
Protein (Min)   12.0%
Fat (Min)   3.2%
Crude Fibre (Max)   0.4%
Moisture (Max)   80.0%
Metabolizable Energy   83kcal/100g
Guaranteed Analysis g/kg
Crude Protein (Min)   108
Crude Fat (Min)   28.8
Moisture (Max)   800
Crude Ash (Max)   25
Crude Fibre (Max)  4.4
Calcium (Ca) (Min) 4
Phosphorus (P) (Min) 2
Omega 3 Fatty Acid (Min) 1
Calorie Content
83kcal/100g
For a 4kg cat feed 1 x PURINA ONE Adult Wet Pouch + 50g of PURINA ONE Adult with Succulent Chicken in Gravy
OR

4 x PURINA ONE Wet Pouch*
*Alternatively replace 1 pouch with 16g of PURINA ONE Adult with Succulent Chicken in Gravy
Feed in at least two meals per day and continue to adjust as needed to maintain your cat in ideal body condition and avoid excess weight gain. Clean, fresh water should be available at all times
Remember food intake requirements vary depending on age, activity and environment, and should be adjusted accordingly.
Making the Switch to PURINA ONE
Although you'll be anxious to see the difference PURINA ONE can make in your cat, please allow 7-10 days to ease the transition from your cat's current food. Each day, simply feed a little less of the previous food and a little more PURINA ONE until you're feeding PURINA ONE exclusively. This gradual transition will help avoid dietary upsets.
No Supplements Necessary
PURINA ONE provides 100% complete and balanced nutrition for maintenance of adult cats. There is no need to add vitamins, minerals or other supplements, unless specifically directed by a veterinarian.
Fresh Water, Proper Diet & Veterinary Care
Be sure to provide fresh water in a clean container for your cat daily. Proper diet, exercise and veterinary care are the best ways to keep your cat healthy. If your cat hasn't had a check-up in the past year, please make an appointment today.
Wet Food
You may also like...