Pro Plan Chicken Formula Dog Food
PRO PLAN Adult Performance Extreme 32 30 Chicken Dry Dog Food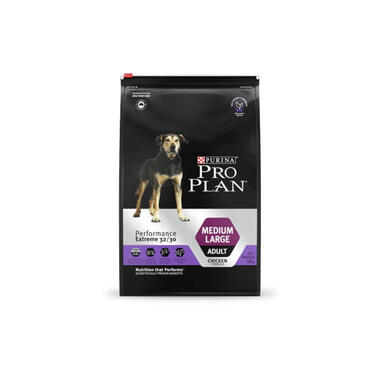 Pro Plan Chicken Formula Dog Food
PRO PLAN Performance Extreme 32/30 is a highly nutritious and high energy product specifically formulated for adult dogs in times of high intensity exercise.
32% protein and 30% fat to deliver the high energy demands of professional dogs, working under extreme conditions
High performance nutrition helps extend the career of working dogs and their quality of life
Concentrated nutrition to fuel metabolic needs and maintain lean muscle for dogs working under extreme conditions
PRO PLAN Performance Extreme 32/30 Chicken Formula Adult Dog Food
Formulated based on advanced dietary science, PRO PLAN Performance Extreme is a high energy formula with concentrated nutrients to release that potential energy, enabling your dog to maximise their performance.
Whether they're working or competing, hunting or herding, every active dog faces unique challenges. Help your dog meet those challenges with targeted nutrition from the PRO PLAN Performance platform.
PRO PLAN Performance Extreme 32/30 is formulated to meet the nutritional levels established by AAFCO (Association of American Feed Control Officials) Dog Food Nutrient Profiles for Adult maintenance. There is no need to add vitamins, minerals or other supplements, unless specifically directed by a veterinarian. Made with high quality ingredients.
32% protein and 30% fat to deliver the high energy demands of professional dogs, working under extreme conditions
High performance nutrition helps extend the career of working dogs and their quality of life
Concentrated nutrition to fuel metabolic needs and maintain lean muscle for dogs working under extreme conditions
Nutrition from high level of quality protein promotes oxygen metabolism (V02 MAX) for increased endurance
Healthy joints for mobility supported by Omega 3 fatty acids and glucosamine
Scientifically proven antioxidants to boost immune defence
No added artificial colours, flavours and preservatives
Ingredients
Chicken and Fish Products (Dehydrated Chicken and Fish protein and Chicken – sources of glucosamine); Animal Fat (Chicken Oil, Tallow and Fish Oil – source of EPA/ DHA); Oats and Wheat Protein; Whole Grain Wheat and Rice; Beet Pulp Fibre; Minerals, Vitamins, Amino Acids and Natural Flavours (including Calcium, Phosphorous, Iron, Potassium, Sodium, Choline, Zinc, Copper, Magnesium, Selenium, Vitamins B1, B2, B3, B5, B6, B12, Folic Acid, Vitamins A, D, C and E); Natural Anti-oxidants with Lecithin.
Guaranteed Analysis
| | |
| --- | --- |
| Crude Protein | 32.0% |
| Crude Fat | 30.0% |
| Crude Fibre (Max) | 2.0% |
| Calcium (Ca) (Min) | 1.0% |
| Phosphorus (P) (Min) | 0.8% |
| DHA (Min) | 0.1% |
| Glucosamine (Min) | 550mg/kg |
| Vitamin C (Min) | 90mg/kg |
| Vitamin E (Min) | 460IU/kg |
| Omega 3 Fatty Acids (Min) | 0.5% |
| Omega 6 Fatty Acids (Min) | 2.0% |
| Metabolizable Energy (ME) | 4640kcal/kg* |
*Calculated based on NRC 2006 equation.
Recommended Feeding Amount
| Activity Level | 10kg | 15kg | 20kg | 25kg | 30kg | 35kg | 40kg | 45kg | 50kg | 55kg | 60kg |
| --- | --- | --- | --- | --- | --- | --- | --- | --- | --- | --- | --- |
| Grams per day when intense activity | 294g-370g | 386g-486g | 486g-589g | 543g-684g | 614g-773g | 681g-857g | 745g-937g | 806g-1014g | 865g-1089g | 922g-1160g | 977g-1230g |
Feeding Instructions
Clean, fresh water should be available at all times.
PRO PLAN Performance Extreme 32/30 is a highly nutritious and high energy product specifically formulated for adult dogs in times of high intensity exercise. It should not be fed in times of low or medium activity, or during growth and reproduction. Growing puppies, reproducing females, resting or less active adult dogs can be fed PRO PLAN Performance All Sizes All Life Stages product following appropriate feeding instructions.
Using the Feeding Table
The recommended daily feeding amounts indicated above are based upon the nutritional needs of a very active adult dog. It is advised to feed these amounts in two separate meals per day and allow at least two hours between a meal and intense activity period. Nutritional needs may vary significantly amongst individual dogs of the same body weight depending on breed, body condition, age, workloads and environment. We recommend to monitor your dog's body condition on a regular basis and adjust feeding quantities accordingly.
Monitor your dog's body condition: To help your dog maintain an ideal body condition, monitor your dog's weight on a regular basis, making sure their ribs are easily felt and their waist is visible when viewed from above. Maintaining an ideal body condition can impact your dog's lifelong health.
Dry Food
You may also like...