TUX Adult Dog Food
TUX Adult Country Biscuits Dry Dog Food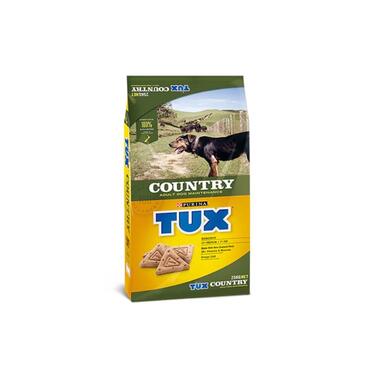 TUX Country provides 100% complete and balanced nutrition for maintenance of adult dogs.
20+ Vitamins & minerals for active life
Made with New Zealand meat
Omega 3 & 6 for healthy skin & coat
TUX Country Biscuits Adult Dog Food
TUX Country has been fuelling Kiwi dogs for decades. Tried & trusted, TUX Country is recommended for the maintenance of adult dogs, for retired or pet dogs. Protein for strong muscles and fat balanced with carbohydrates for energy plus fibre for good gut health, makes TUX Country a great choice for the less active dog. Easy and convenient to feed, the large triangle baked biscuit also helps maintain dental health.
TUX Country keeps dogs full of life.
Complete 100% balanced
Made with New Zealand meat
20+ Vitamins & minerals for active life
Omega 3 & 6 for healthy skin & coat
Ingredients
Cereals and/or cereal by-products, meat and animal by-products and fats derived from beef and/or sheep and/or poultry and/or goat and/or venison, natural flavour and/or vegetable oil, salt, vitamins and minerals.
TUX Country is recommended for New Zealand adult dogs exercising at a low-moderate level.                     
TUX Country provides the right balance of protein, fat and carbohydrates and all the essential vitamins and minerals needed to keep a country dog full of life.
Guaranteed free from Hydatids.
Guaranteed Analysis
| | |
| --- | --- |
| Crude Protein (Min) | 17.0% |
| Crude Fat (Min) | 9.0% |
| Crude Fibre (Max) | 4.0% |
Vary the quantity of TUX feed to suit your dog's requirements. This will depend on its age, size, breed and level of activity, or when TUX is fed in addition to other foods.
TUX COUNTRY FEEDING GUIDE – BISCUITS PER DAY*
| Dog Size | Dog Weight | Biscuits per Day* |
| --- | --- | --- |
| Small | < 10kg | 4 – 6 biscuits |
| Medium | 10 – 25kg | 6 – 11 biscuits |
| Large | 25 – 45kg | 11 – 18 biscuits |
| Giant | 45kg + | 18+ biscuits ** |
* Feed amount based on number of biscuits (1 biscuit = approx. 35g)
** Add 1 or 2 biscuits/day for every 5kg body weight over 45kg.
For best results feed TUX Country as one or two meals per day, with the main meal in the evening. It is recommended that there be a gap of 45 minutes between exercise and feeding your dog.
Vary the quantity of TUX Country to suit your dog's metabolism, size, age, activity level, weather conditions / temperature, or if TUX Country is fed in conjunction with other foods such as homekill.*
Guaranteed free from Hydatids.
*NEVER feed raw offal to dogs, which may contain Hydatid cysts. Hydatid cysts can be passed on to other dogs, humans and livestock through contact with an infected dog.
All You Need to Feed
100% complete and balanced nutrition for maintenance of adult dogs. There is no need to add vitamins, minerals or other supplements, unless specifically directed by a veterinarian.
Complete and balanced nutrition for the maintenance of adult dogs, substantiated by testing performed in accordance with the procedures established by AAFCO (Association of American Feed Control Officials).
Switching to TUX Country
Please allow seven to ten days to ease the transition from your dog's current food. Each day, simply feed a little less of the previous food and a little more of TUX Country until you're feeding TUX Country exclusively. This gradual transition will help avoid dietary upsets.
Fresh Water, Proper Diet & Veterinary Care
Be sure to provide fresh water in a clean container for your dog daily. Proper diet, exercise and veterinary care are the best ways to keep your dog healthy.
Dry Food
You may also like...