Pamper your feline friend with a lavish cat massage that will make them feel like they lives in the lap of luxury.
There are a few things to keep in mind before you can become the resident specialist in premium cat massaging techniques. This article will give you the information you need to massage your way into your cat's good graces.
Why is massage important for your cat?
We know – a massage is so good you don't need reasons to have it. But there are also real benefits to offering your cat a massage. It's not just a session of pampering – it has important consequences for the health and vitality of your feline friend. A cat massage improves circulation, promotes low blood pressure, supports joint mobility and it combats cat anxiety and stress like nothing else. So flex your fingers and get ready for all those lovely purrs of joy.
If you are not sure where to start, we put together a short guide for all your cat massage questions.

How to massage a cat in 3 steps
The first thing you need to do before you start your cat massage is to wait to be approached. When you notice your cat starts rubbing against you, it means she's relaxed enough to enjoy 5-10 minutes of quiet massage heaven.
Start by talking to your cat. Change your voice, sing their favourite cat song or make any sounds you know puts your cat at ease. The key is to keep a calm and soothing voice.
Then you can use our three-step CAT technique – Circle, Activate, Tap.
1. Circle: move around in circles
Start your cat massage by lightly stroking your cat from the neck to the base of their tail by using an open and relaxed hand. This technique is also known as effleurage and it helps your cat get in a relaxed mood, warm-up the muscles and stimulate blood circulation.
Once you feel the back muscles have eased up, move onto your cat's shoulders. Using your thumbs, rotate your fingertips clockwise or counter-clockwise to make slow circles around her shoulder blades.
Pay attention to their reaction, especially when you give your cat a face massage as some cats like this more than others.
After the face, pass your hand over their head and, without pressing too hard, massage the space behind the ears and their chin. Cats' ears are very sensitive as they contain lots of nerve endings. Use your thumbs from the base to the tips.
2. Activate: stimulate the muscles
Once you notice your cat is in spa-ready mode, i.e. purring and stretching, you can start a deeper massage. This part of your cat massage involves squeezing, rolling, and kneading. They're all valid moves, but always keep in mind the comfort level of your pet – don't let it get too much. The basic technique is to compress and release.
If you want to get professional about it, this technique is called petrissage and it involves opening and shutting your palm while pressing lightly with your fingers along your cat's spine. This time around your touch is not a soft sliding motion, but a bit more firm. The aim is to feel the tissue's underlying structure, but without pinching. It is essential to go slow to be able to detect and loosen knots in your cat's muscles.
The petrissage massage is especially useful to cats that don't like to move around too much. The benefit of this type of cat massage is that the reflexes in the muscles are mechanically stimulated which helps increase muscle tone for cats that prefer a slower life style.
Your cat's relaxed mood means they will be more comfortable than usual with moves that help improve their joint mobility. Gently introduce some flexing for the toes, legs and knees.
3. Tap – tap it down
Finally, tapotement is a light percussion-type movement that helps increase blood circulation. Use soft taps from each hand alternatively while keeping an eye out on your cat's reaction. Rather than relaxing, this cat massage technique is used for stimulating your cat's muscles, so make sure your cat enjoys it first.
To make sure you won't get stuck in the middle of a relaxing cat massage, we arranged the three main techniques into a useful acronym: CAT.
Step up the game with cat massage accessories
If you need help, there are various cat face massagers and cat massage rollers designed to give your cat a complete massage experience by targeting specific groups of muscles. You can start by using a grooming brush that doubles as a massage toy. These brushes are usually made out of soft silicone which makes the massage comfortable.
Cat massage rollers are specially designed to relive symptoms of stress and offer a relaxing massage at the same time. Look out for the lovely purring sound as you use them for both their face and their body.
Keep an eye out for toys that offer textured sides to both massage and groom your cat.
The cat massage feedback
To make sure you are offering your cat an enjoyable massage, be aware of the reactions you are getting. You already know what it means when your cat starts scratching, but what are some of the tell-tale signs you're doing a great job?
Purring holds no mystery. It is the sound usually associated with a content cat. Drooling and kneading are also good signs. But you really deserve a pat on the back when your cat starts folding her ears in the middle of your cat massage.
Now that you know how to offer your cat a relaxing massage that is also beneficial to her all-around health, follow it up with some delicious Fancy Feast cat food to complete the indulgent experience for your cat.
Featured products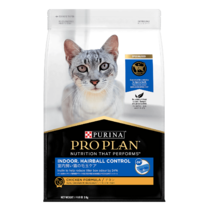 PRO PLAN Adult Indoor Hairball Control Chicken Dry Cat Food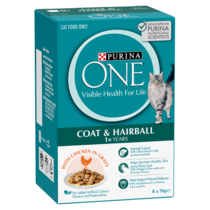 PURINA ONE® Adult Coat & Hairball with Chicken in Gravy Wet Cat Food 6 Pack Multipack