Digestibility is the percentage of a food's protein and other nutrients available and utilised by your cat. Assuming your cat is in good health, digestibility can be judged by their stool quality and volume.
FORMULA OF THE FOOD BEING FED
The digestibility of the food will vary as the ingredient composition varies.
NUTRITIONAL BALANCE
The correct ratio of nutrients in the diet helps to ensure efficient utilisation of them by your cat.
INGREDIENT QUALITY
Lower quality ingredients can affect the digestibility of a pet food.
PROCESSING
Even a formula of good quality ingredients can have its digestibility reduced by over-cooking or over-processing.
Featured products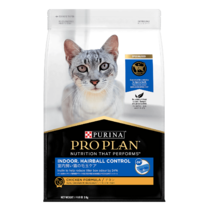 PRO PLAN Adult Indoor Hairball Control Chicken Dry Cat Food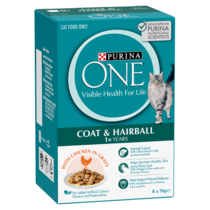 PURINA ONE® Adult Coat & Hairball with Chicken in Gravy Wet Cat Food 6 Pack Multipack