PURINA ONE Wet Pouch for Cats
PURINA ONE® Mature Adult 7+ with Chicken in Gravy Wet Cat Food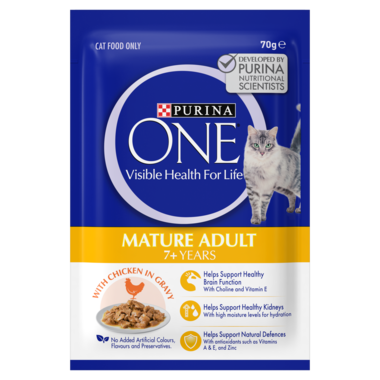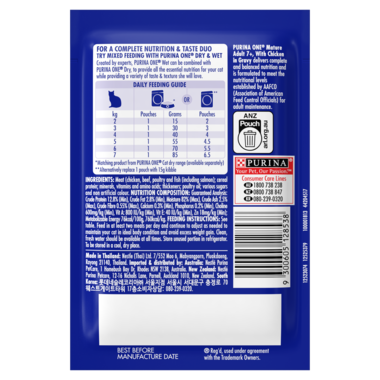 PURINA ONE Wet Pouch for Cats
Helps support healthy brain function with choline and Vitamin E
Helps support healthy kidneys with high moisture levels for hydration
Helps support natural defences with antioxidants such as Vitamins A & E, and Zinc
A complete nutrition and taste duo. Created by experts, PURINA ONE® Dry & Wet provide all the essential nutrition for your cat while delivering a variety of taste and textures she will love.

PURINA ONE® Mature Adult 7+ delivers complete and balanced nutrition and is formulated to meet the nutritional levels established by AAFCO (Association of American Feed Control Officials) for adult maintenance.

•    Helps support healthy brain function with choline and Vitamin E
•    Helps support healthy kidneys with high moisture levels for hydration 
•    Helps support natural defences with antioxidants such as Vitamins A & E, and Zinc
•    No added artificial colours, flavours and preservatives 
Ingredients
Meat (chicken, beef, poultry, and fish (including salmon); cereal protein; minerals, vitamins and amino acids; thickeners; poultry oil; various sugars and non-artificial colour. 
Guaranteed Analysis
Crude Protein 12.8% (Min)
Crude Fat 2.8% (Min) 
Moisture 82% (Max)
Crude Ash 2.5% (Max)
Crude Fibre 0.55% (Max)
Calcium 0.3% (Min)
Phosphorus 0.2% (Min)
Choline 600mg/kg (Min)
Vit A: 800 IU/kg (Min) 
Vit E: 40 IU/kg (Min)
Zn 18mg/kg (Min)
Calorie Content
76 kcal/100g
A COMPLETE NUTRITION & TASTE DUO – MIXED FEEDING WITH PURINA ONE DRY & WET
Created by experts, Purina ONE Dry & Wet provide all the essential nutrition for your cat while delivering a variety of taste and textures she will love.
Per Day
For a 4kg cat feed 1 x PURINA ONE® Adult Wet Pouch + 40g of PURINA ONE® Adult with Succulent Chicken in Gravy

OR
4 x PURINA ONE® Wet Pouch*

*Matching product from PURINA ONE® Cat dry range (available separately) 
** Alternatively replace 1 pouch with 15g kibble
Wet Food
You may also like...