MAKING YOUR HOME PURR-FECT
Bringing home a cat is the start of a long and happy life together. Below are some tips on welcoming the latest addition to your family:
Choose a name – be creative and have fun! Just make sure it's easy to say and doesn't sound like anyone else in the family's name, which might make things a tad confusing!
Serve fresh food and water every day in clean plastic, ceramic or stainless steel dishes.
Make sure your cat's litter tray is as long and wide as possible. Cats function best when they have a choice of at least two trays, which are easily accessible.
Attach an ID tag and bell to your cat so you know when they're trying to get out! Make sure their collar allows for a 'quick release', in case their head gets caught on a branch or similar. Also speak with your vet about microchip insertion in case your cat gets lost.
Choose a bed for your cat. There are number of beds in all sorts of shapes, sizes and materials available in stores, but even a closed cardboard box with soft bedding and a hole cut into one side will do. Bear in mind, however, that your new pet may prefer your favourite sweater!
Choose a variety of sturdy cat toys. Dangle them from a string tied to a stick and watch your pet perform all sorts of complicated gymnastics, before putting them away again when playtime is over. Always check the toys for damage after each play session.
Cats don't need to be bathed but brushing or combing your cat's coat is a good habit and can help prevent hairballs.
Find a vet that you can trust. This relationship may last 15 to 20 years.
To prevent damage to carpets and furniture, provide scratching posts of sisal rope or horizontal strips of corrugated cardboard. Position a post near each of your cat's favourite resting places.
Finally, take lots of photos as your new pet will grow up very quickly. Plus, if your cat ever gets lost, recent photos on posters are a huge help to help bring them home.
Need more information? Contact the Purina Pet Care Advice team here for free advice.
Featured products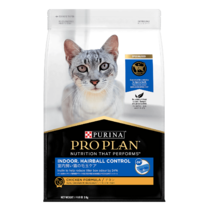 PRO PLAN Adult Indoor Hairball Control Chicken Dry Cat Food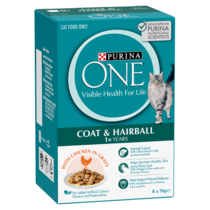 PURINA ONE® Adult Coat & Hairball with Chicken in Gravy Wet Cat Food 6 Pack Multipack