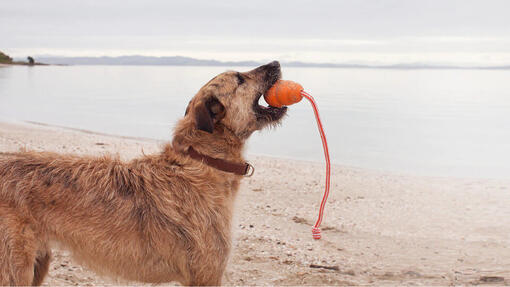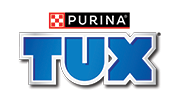 With 70 years experience
in making quality food for kiwi dogs, the TUX team understands the unique requirements of dogs and know just what they need to stay happy, healthy and full of life.
About Us
The creation of the TUX dog biscuit is a classic example of Kiwi ingenuity and "can do" attitude.
Sixty years ago, Tiny Moore, a Blenheim inventor who was concerned about the poor feeding standards for working dogs, developed a baked dog biscuit packed with balanced nutrition. The three-pointed shape served a two-fold purpose: the biscuits wouldn't fall through the bottom of wire kennels, and they were easier for dogs to eat.
Happy with his new invention, Moore approached the Elastrator Company with a simple but effective sales pitch for the biscuits he had developed. Taking a sack, a steak, one of his biscuits and a few hungry farm dogs, Moore proceeded to demonstrate the appeal of his new product. Tiny covered the steak and the biscuit with a sack and, the dogs sniffed around and headed straight to the biscuit. Tiny Moore had found himself a manufacturer and TUX was born.
In 1954, the first TUX dog biscuits were produced in an old Blenheim bakehouse and were distributed nationwide through stock and station agents. True to its rural roots, the TUX brand became the major supporter of the NZ Sheep Dog Trial Association. Through the years, TUX sponsorships have included national dog shows, as well as the popular TV programme TUX Wonder Dogs.
The TUX biscuit is a New Zealand icon – loved by dogs for its flavour and texture; loved by dog owners for its convenience, balanced nutrition and trusted ingredients. The word TUX, a derivation of "dog tucker", has become part of the Kiwi vernacular.
The TUX dog biscuits produced today have come a long way nutritionally, but their essence remains true to Tiny Moore's creation – a large, baked triangle made from quality ingredients.
As well as farm and working dogs, TUX dog biscuits have long had a specific range designed to fuel their urban counterparts too. When it comes to dog food, one type does not fit all. That's why each of the TUX products is designed to provide complete and balanced nutrition for a specific life stage or lifestyle. And in 2014, as an alternative format to the large triangle biscuit, TUX kibble was launched.
Best of all TUX triangle biscuits are still made right here in New Zealand, in Marton. TUX is still going strong after all these years and remains the number-one selling dry dogfood in New Zealand.