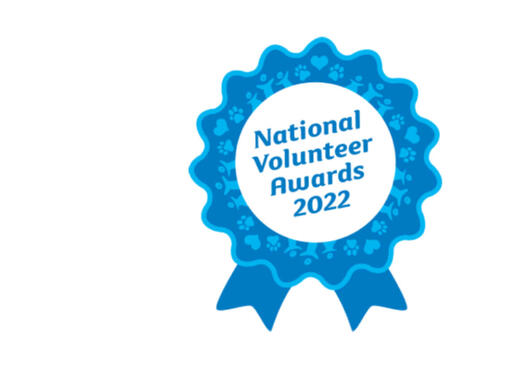 Volunteer Awards 2022
Feeding a better future for pets
Each year, thousands of Kiwis volunteer their time, talent and energy to the SPCA and the countless pets in need across New Zealand.
The SPCA Purina Volunteer awards have been created to celebrate these special people and to put a spotlight on the numerous ways volunteers contribute to the SPCA.
Congratulations and a big thank you to our 2022 winners below:
Best Op Shop Team – Hastings SPCA Op Shop
Fantastic Foster Family – Cherie & Graeme Buckler, SPCA Hastings
Outstanding Young Volunteer – Jason Tang, SPCA Māngere
Going the Extra Mile – Carolyn Callister, SPCA Nelson Op Shop
Most Devoted Volunteer – Marilyn Hagen, SPCA Renwick Centre
Best Centre Volunteer team – Ian Blackler and Rachel Milner, SPCA Christchurch Centre
Meet Our 2022 Winners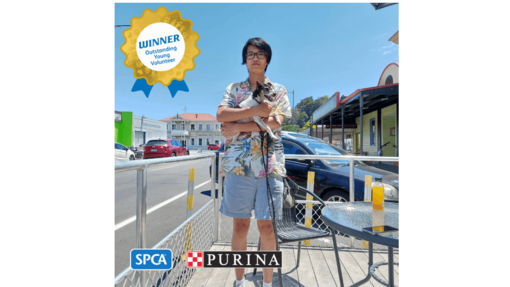 Outstanding Young Volunteer
Jason Tang  Auckland, Mangere
If anyone has a way with dogs, it's Jason Tang who, despite only being in his mid-20s, is making an incredible impact on the animals. Jason started out in the Mangere Centre in 2018, and assisted with the start-up of SPCA's Canine Field Trip Programme, along with a small handful of other volunteers. The programme involved taking the dogs offsite for walks every week but, as time went on, he also began fostering dogs too. His most recent foster was an incredibly timid dog who was struggling to cope in the shelter. But after spending a few weeks with Jason, the dog's nature changed from shy and frightened, to confident and relaxed, and he has since found his forever home. Jason is always flexible with meet and greets and is happy to bring the dogs in whenever required.  This is a huge help to the team, especially when going through the adoption process of some of our more sensitive dogs. Jason is now one of our most trusted canine volunteers who we can always call on to assist our adult dogs.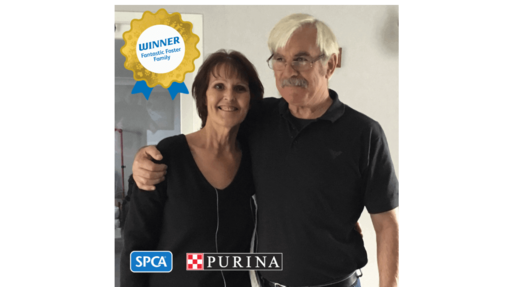 Fantastic Foster Family
Cherie & Graeme Buckler Hastings
Cherie and Graeme only started as a foster family last year, but since then, they've been going above and beyond in every way. The dedicated and compassionate pair take on our most vulnerable bottle-feeding puppies and kittens. Whether it's one litter, or three litters at a time, they are extremely generous with their time and investment in caring for the animals. The pair have shown such dedication in fostering, and have cared for 29 bottle-feeders in the last six months without a break. 
Caring for vulnerable kittens and puppies is a huge amount of work, with plenty of night-shift work involved. They also took on the special care of one little pup that needed them more than any of the others – little Dove, who had a cleft palette and needed round the clock care. Cherie and Graeme rose to the challenge and Dove blossomed in their care, all while also looking after another young pup and a litter of kittens at the same time. Their love for Dove grew so much they ended up adopting her into their family permanently.
Cherie always keeps the team well informed of the animals' progress, emailing through detailed updates regularly and keeping us in the loop at every turn and we cannot thank them enough for their wonderful service.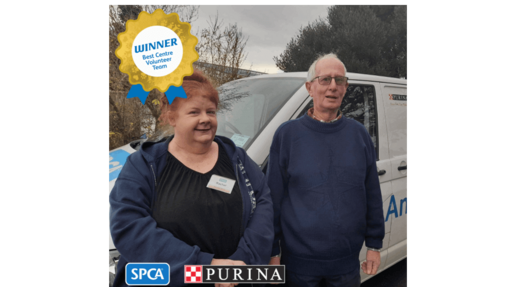 Best Centre Volunteer Team
Ian Blackler and Rachel Milner  Christchurch
Ian and Rachel always put their hands up for all sorts of weird and wonderful missions and nothing is ever too challenging for them. As part SPCA's volunteer drivers, they have been working as a solid unit for many years now. Ian and Rachel come in every single Thursday and the Christchurch team cannot recall the last time they took a day off, despite volunteering for five and three years respectively. 
The Christchurch Centre operates with only one ambulance for all of Canterbury, so having Ian and Rachel on the road to support the Centre, effectively doubles the capacity to help sick, injured and vulnerable animals in the area. We are consistently asking if they are able to go on road trips to pick up animals or meet staff and transfer animals from other centers in locations such as Ashburton, Timaru, Oamaru and Kaikoura, and they are always willing and do so with a smile.  
When they're not on the road, they're helping around the Centre, doing admin, laundry, general cleaning and maintenance. Their can-do attitude and positive vibes are dearly appreciated at the Center. Ian recently retired from his volunteer support on 26 May, so what better way is there to thank him for all his incredible work? Congratulations and thank you to Ian and Rachel.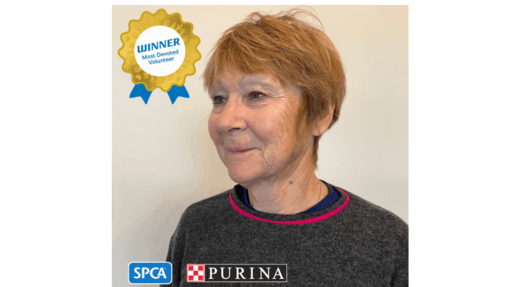 Most dedicated volunteer
Marilyn Hagen Renwick Centre
The Renwick SPCA Centre has its very own superstar – and that's Marilyn Hagen. The person who nominated Marilyn remembers the day they met her, as she was celebrating the fact she had been volunteering at the Centre for 20 years. Fast-forward another 15 years, Marilyn is going stronger than ever, with an incredible 35-years' service now attributed to her name. 
Week after week – rain, hail or shine – Marilyn is always there when you need her. Whether it's cleaning cat huts, scrubbing litter trays, socialising and caring for the needs of the kittens and cats, Marilyn always goes about her work quietly and reliably, along with a great group of volunteers who bring their skills, patience, love and time. Marilyn's assistance enables staff to complete other tasks, which are equally important, but would otherwise be difficult to fit in the day if she wasn't there.
Not only is the Centre team able to achieve more in a day thanks to Marilyn, they can spend more quality time with the animals and better prepare them for their forever homes. Marilyn's dedication is truly awe-inspiring.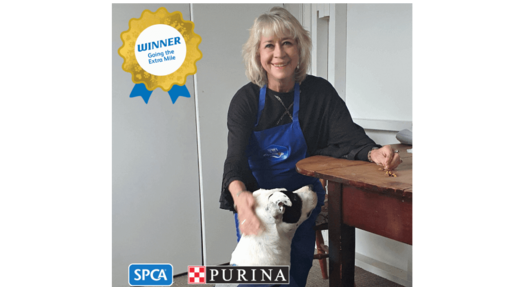 Going the extra mile
Carolyn Callister Nelson Op Shop
As the old saying goes, 'ask the busiest person to do something, and they get it done' – and that person is Carolyn Callister. She has been volunteering at the Nelson Op Shop looking after entertainment, library and clothing for the last eight years. Carolyn shows such dedication to the shop that she sees it in her dreams, and even puts holidays off or comes back early, as she worries about the huge amount of books that come in. By helping friends clear out their homes of unused clothing, to securing designer clothes from a local store, Carolyn increased donations from a bag or two every six weeks, to multiple bags of clothes and accessories every month. These donations meant that the shop's profit increased and more money was able to go towards helping the animals. Carolyn takes clothes home to be priced and goes the extra mile by removing buttons off any clothing that were classed as being sent to landfill. Her generosity and willingness to help is both an inspiration and asset to our shop.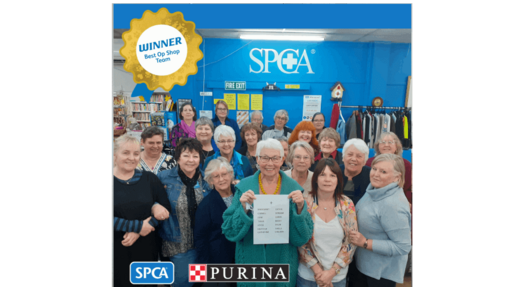 Best Op-shop Team
Hastings
If one team can prove that age is just a number, then look no further than the Hastings SPCA Op Shop team. Some of the members are in their 80s and still come in three times a week for their shared passion – supporting the animals. The busy team put their heart and soul into making sure the shop is beautifully presented and items are treated with love. One team member even takes clothing home with her to iron, which she has kindly done for the past eight years, while others help greet our customers at the front desk and price all the clothes. Each volunteer contributes their valuable skills, experience and passion to make the Hastings Op Shop the special place it has come to be.
Some team members work regular 9am-5pm jobs during the week and volunteer on the weekend, while others have taken annual leave from their jobs to make sure the store remains open. The shop usually has up to 32 volunteers, but due to Covid-19, the store has been running on a skeleton crew, with only two people running the shop at times. Even throughout the pandemic, they have found ways to keep operations going and continue raising money for our important cause. We are extraordinarily lucky to have these people champion SPCA and provide their support.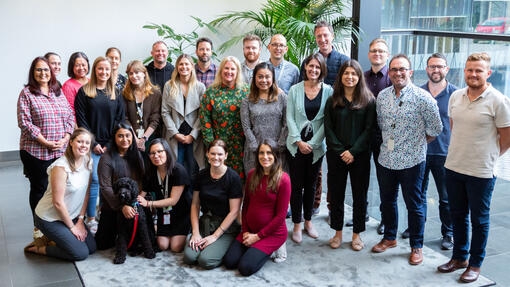 Contact us
We're here to answer all of your pet questions - there's nothing too big or small. Get in touch with us directly any time, any way. Our lines are open from 9am - 5pm, Monday to Thursday and 9am-4.30pm on Fridays.
You can also contact us via web form or email. 
For any media enquiries, please email MediaRelations.AUNZ@au.nestle.com