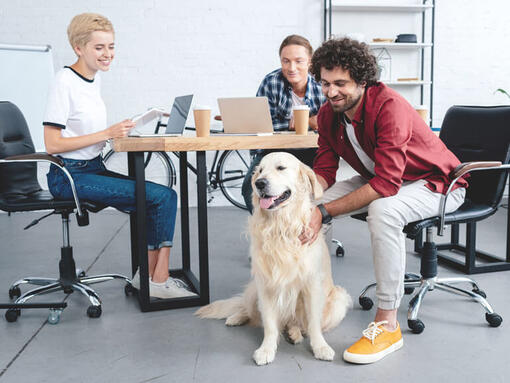 For Employees
Excited to make your office pet-friendly?
Be a change-maker!
Find out how to get the scheme up and running in your own business – from selling the idea to your boss, to running a Doggy Day Trial for colleagues.
With a little bit of mythbusting, and a convincing pitch to your boss, welcoming pets into your workplace could be easier than you think. In this section you will find everything you need to know!
Convince your employers
Welcoming dogs into the workplace can help with some of the biggest questions facing any employer today.
How can we reduce stress and increase collaboration? How can we transform the working culture and get smarter about recruiting and retaining talent? With so many companies looking for answers to these questions and many more, the business benefits of Pets at Work speak for themselves.
There are various things to consider before bringing Pets into your workplace which we have covered below. 
3 Key things to check
Check who owns and manages your building
It's important to make sure dogs are allowed into your workplace. You may need to check this with your boss or landlord – or both – first.
Get your leaders on board
The Pets at Work toolkit is packed with facts, research, and a ready-to-use pitch, to help you get your boss as excited at the prospect of having pets at work as you are.
Appoint a champion or project team
If you or a small team show a willingness to take the lead on implementing Pets at Work, it will really help get the leadership on board, and help the scheme run smoothly.
 
Get Your Boss On Board in 3 Simple Steps
We've done half the work for you already. Our handy advice will make approaching your boss a breeze.
3 Etiquette Rules for Bringing Pets to Work
Our etiquette guide will help pet-friendly workplaces make sure that everyone's happy, pets included.
Creature comforts to consider
Pets at Work Toolkit
So your workplace has made the leap and decided to become pet-friendly? Congratulations! We're ready to help and we made this kit to help you get started. Click here to access our Pets At Work Toolkit.
Inside Our Kit: 
Pet Etiquette 101 - Pets at Work programmes only work if employees understand just what they're responsible for.
2. Signs For Your Office - You're going to want the whole world to know that you're pet-friendly. You're also going to want to let pet owners know where their pets can and can't go in the office space.
3. Pet Pledge - When employees decide to bring pets to work, it's important that they promise to follow the guidelines your workplace sets out for them.
4. Office Checklist - Pets coming into the office soon? You're going to want pet owners to know just what to bring. We've created a short list for you to pin up in the workplace so they will make sure not to forget something important.
PURINA Pets at Work Toolkit
purina-pets-at-work-toolkit.pdf
People who've experienced Pets at Work just can't stop talking about it. Watch our videos to hear testimonies from people who've tried Pets at Work for themselves.
Case Studies
AFG & Enterprise is a London based creative agency. Here, their employees share their passion for having dogs in their offices.
As CEO (Canine Executive Officer), Max is known by everyone at Purina! Follow Max around the office to experience a typical day from his point of view.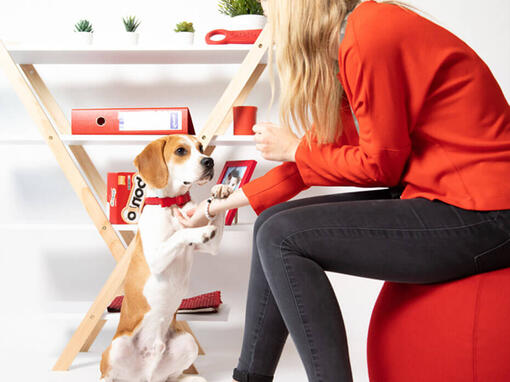 Pets at work
Interested in setting up Pets at Work in your workplace?
We want to use our expertise in allowing pets in our offices to help other companies do the same. If you are interested in making your workplace pet friendly, contact us and we will help you!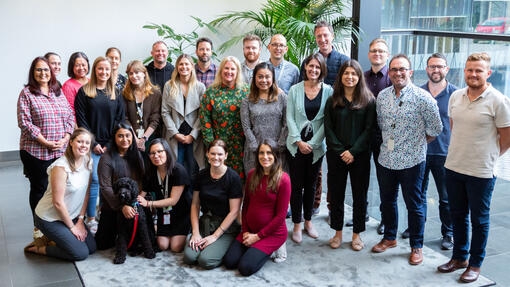 Contact us
We're here to answer all of your pet questions - there's nothing too big or small. Get in touch with us directly any time, any way. Our lines are open from 9am - 5pm, Monday to Thursday and 9am-4.30pm on Fridays.
You can also contact us via web form or email. 
For any media enquiries, please email MediaRelations.AUNZ@au.nestle.com